For Immediate Release

A new book celebrating South Africa's influential women is launched in Johannesburg, South Africa, 10 March, 2023: This morning, some of South Africa's most influential women from all walks of life were celebrated at the launch of the book "Women Who Build a Better Future for South Africa: Sixty-Six Years later (2022)". Amongst those documented are mothers, activists, academics, architects, bakers, chartered accountants, philanthropist etc. , who were recognized for being amongst those who make each day a better place for all to live in.
"This is our labour of love. We can now share the book we've worked on for the past two years, throughout COVID, with the rest of the country and as its title suggests, to remember the shoulders of the women we stand on, of the historic August 9th 1956 march. We have brought 66 women's life stories together to commemorate each year since the march. Our book is about the women who continue to build the "here and now" in South Africa." Said co-authors Prof Rozena Maart of UKZN and Ms Joan Ramagoshi Madibeng, a businesswoman and former Miss South Africa.
The event was attended by a number of the women featured in the book amongst others businesswomen including Basetsana Kumalo, Humanitarian & author Amanda Dambuza, Biotumelo Semete from the CSIR, Doria Daniels from Stellenbosh University, gender activist Lesego Mokae and architect Nompumelelo Kubheka.
"It is by time that we ensure that the real architects of society are indelibly etched in the annuals of history, the women who did and are doing so much to keep the fabric of our society intact. We applaud the two authors for this piece of work", says Lyndon Barends, MD Arena Holdings (owners of the Sunday Times, Sowetan, Business Day and other publications)
The book will be available on the SA HomeOwner e-commerce platfom www.sahomeowner.co.za
You can also order it from danielleg@arena.africa.
Each of the beautifully printed hardcover books are selling for R1000 each.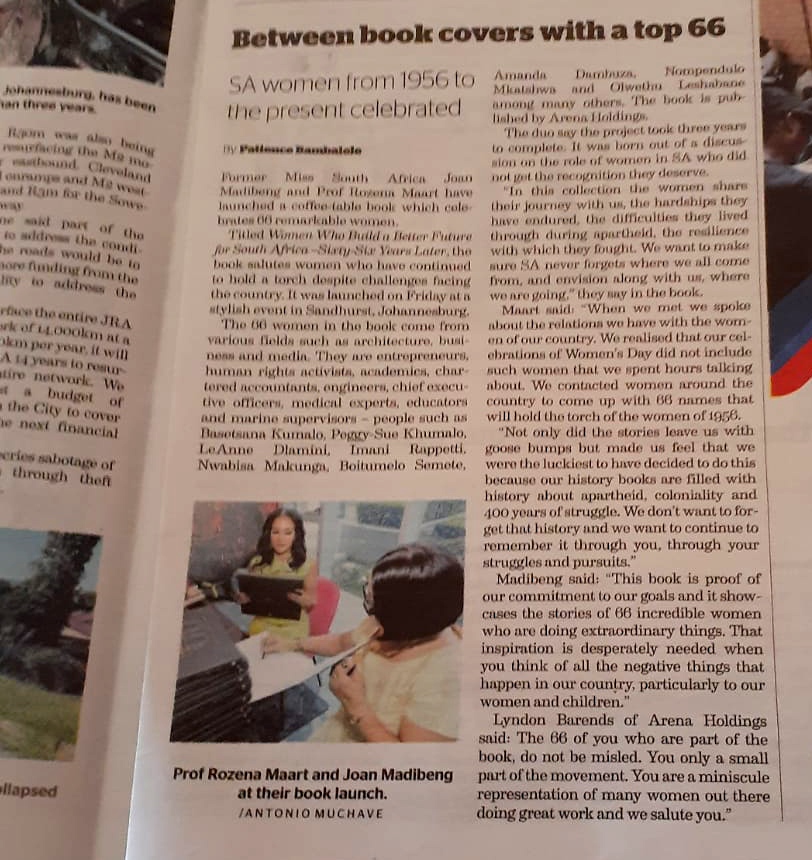 https://www.sowetanlive.co.za/entertainment/2023-03-13-between-book-covers-with-a-top-66/